Weldox Plate: High Strength Steel Solution
 Weldox plate is a high-strength structural steel plate produced by the Swedish steel company SSAB. It is specifically designed to be used in demanding applications where high strength and low weight are essential. Weldox plate is known for its outstanding toughness, weldability, and durability, making it a popular choice for a wide range of industries, including mining, construction,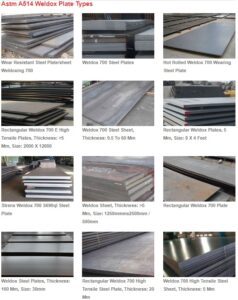 transportation, and energy.
The Advantages of Weldox Plate
One of the main advantages of Weldox plate is its high strength-to-weight ratio. Compared to traditional structural steel plates, Weldox plate can be up to five times stronger while maintaining the same weight. This means that Weldox plate can provide a more robust and durable solution while reducing the overall weight of the structure, which can have benefits for transportation costs and the environment.
Another advantage of Weldox plate is its excellent weldability. This makes it easier and more cost-effective to manufacture and assemble structures that use Weldox plate. The material is also highly formable, allowing it to be shaped into complex structures without compromising its strength or toughness.
Weldox plate is also known for its exceptional toughness and durability. It is designed to withstand extreme environments and loading conditions, making it an excellent choice for heavy-duty applications. Weldox plate can resist cracking, fracture, and deformation even in harsh conditions, which can help to increase the lifespan and reliability of the structure.
Applications of Weldox Plate
Weldox plate is used in a wide range of applications that require high strength and durability. Some of the most common uses of Weldox plate include:
Mining: Weldox plate is used in mining equipment such as dump trucks, excavators, and loaders. Its high strength and durability make it an ideal choice for heavy-duty mining applications.
Construction: Weldox plate is used in a variety of construction applications, including cranes, bridges, and building frames. Its strength and formability make it a versatile choice for a range of construction projects.
Transportation: Weldox plate is used in the transportation industry to make lighter and stronger vehicles, such as trailers and tanker trucks.
Energy: Weldox plate is used in the production of wind turbines and other renewable energy technologies. Its strength and durability make it well-suited for the extreme conditions found in these applications.
Weldox Plate standard size?
Weldox plates are available in a range of standard sizes and thicknesses, depending on the specific needs of the application. SSAB, the Swedish steel company that produces Weldox plates, provides a detailed product catalog with information on the available sizes and thicknesses.
The typical range of Weldox plate thicknesses is from 4 mm to 130 mm, with standard widths of 2000 mm and 2500 mm, and lengths up to 12000 mm. However, other sizes may be available depending on the specific requirements of the project.
It's important to note that Weldox plates can also be cut and shaped to meet the specific needs of a project, which allows for greater flexibility in design and construction.
The price of Weldox plate can vary depending on a range of factors, including the thickness, size, quantity, and delivery location of the plates. Other factors such as the current market demand and raw material costs can also affect the price.
To get an accurate price for Weldox plate, it is best to contact a supplier or distributor of SSAB products. They can provide a quote based on your specific requirements and can also advise on the most suitable grade and thickness of Weldox plate for your project.
It's important to note that Weldox plate may be more expensive than standard structural steel plates due to its high strength and unique properties. However, it can also offer cost savings in terms of reduced weight and longer lifespan of the structure.
Weldox Plate weight calculation formula
The weight of a Weldox plate can be calculated using the following formula:
Weight (kg) = Length (m) x Width (m) x Thickness (mm) x Density (g/cm³) / 1000
In this formula, the length and width are in meters, the thickness is in millimeters, and the density is in grams per cubic centimeter. The density of Weldox plate can vary depending on the specific grade and thickness, but a typical density is around 7.85 g/cm³.
For example, let's calculate the weight of a Weldox plate that is 2 meters long, 1 meter wide, and 10 mm thick:
Weight = 2m x 1m x 10mm x 7.85 g/cm³ / 1000 = 15.7 kg
So the weight of this particular Weldox plate would be approximately 15.7 kg.
Here is a Weldox Plate grade chart that shows the different grades and their corresponding minimum yield strengths:
Weldox 700: 700 MPa
Weldox 900: 900 MPa
Weldox 960: 960 MPa
Weldox 1100: 1100 MPa
Weldox 1300: 1300 MPa
Note that there may be variations in available grades and their corresponding strengths depending on the supplier and region. It's important to consult with a supplier or distributor of SSAB products to determine the most suitable grade for your specific application.
Conclusion
Weldox plate is a high-strength structural steel plate that offers exceptional toughness, weldability, and durability. Its unique properties make it an excellent choice for a wide range of applications where high strength and low weight are essential. Whether used in mining, construction, transportation, or energy, Weldox plate is a reliable and durable choice that can help to increase the lifespan and efficiency of structures and equipment. Read More About Hardox plate